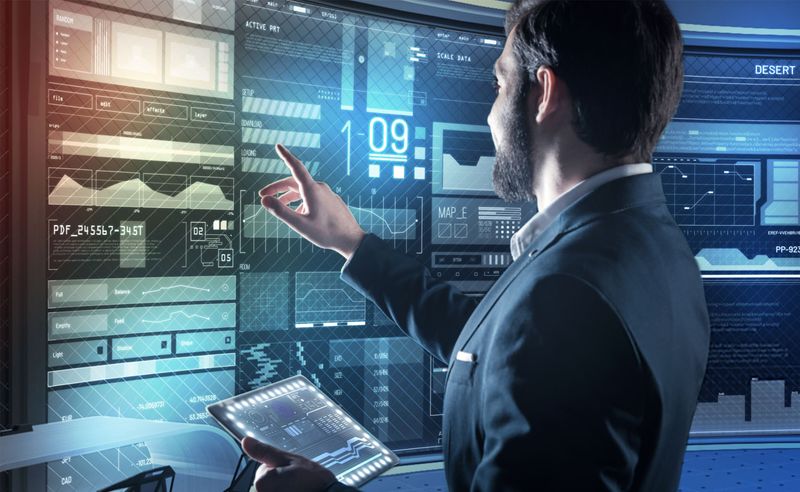 Hyper-realistic simulated cyber defense training.
Just as a pilot must train in a flight simulator, the most important aspect of cybersecurity preparedness is your team's ability to train in a simulated environment with real-life attack scenarios.
Cloud Range provides subscription-based access to the world's leading cloud-hosted cyber range to give your Security Operations Center (SOC) Team the ability to train on a hyper-realistic, network including actual licensed Security Information & Event Management (SIEM), firewalls and other tools your team uses every day.
Cloud Range gives you the benefits of having your own custom cyber range, without the costly investment of infrastructure, trainers and administration.
Prepare from anywhere. The cloud-based platform is used to perform hyper-realistic training through a cost effective and convenient subscription model.
Measurable results. Cloud Range uses the world's leading simulation-based cyber defense training platform to give SOC analysts and incident responders the skills and hands-on training required to ensure they are prepared to identify and respond to the increasing number and types of cyberattacks.
Hosted Cyber Range with Private Network Access
Custom Network Configurations
No infrastructure needed
Includes industry leading SIEM, firewalls and EDR licenses
Team or Individual Training
Instructor-Led Sessions (virtual or on-prem)
Built-in Learning Management System
Flexible and Scalable Options
Custom Scheduling
Fast Deployment
Give every member of your security team the ability to learn how to identify and defend against attack vectors in a safe environment
Stay up to date on specific skills for emerging threat vectors
Custom training and coaching for EACH trainee based on his/her learning needs and progress
Onboard people more quickly and effectively
Receive metrics reflecting actual detection and response times for each team member
Keeps team members engaged using a gamified environment
Overcome employee complacency by having consistent training on the most current attack vectors
Provide skills training in multiple SOC functions for professional development
Hone skills using licensed versions of your actual security tools
Attack Scenarios: A Series of Missions
Your team will practice defending against the world's most threatening attack vectors, including those listed here. New scenarios are added frequently to keep your team up-to-date as the threat landscape becomes increasingly complex. Custom scenarios may also be configured.
Ransomware
DDoS SYN Flood
SQL Injection
WMI Worm
Apache Shutdown
Trojan Data Leakage
DB Dump via FTP Exploit
JAVA NMS Kill
Java Send Mail
Web Defacement
Killer Trojan
Trojan Share PE
WPAD Man in the Middle
Cloud Range's remote capabilities allow up to 20 people to log in to a private live session. No matter where your team may be, whether in the same room or dispersed across the globe, your SOC operators can train together as a team.
Cloud Range's team training platform delivers individual instructor-led training exercises or a series of exercises (a "course") to ensure that your team is prepared for a multitude of potential cyberattacks. A course includes the following:
Training Session FAQs
Do I need an appointment to visit the Cyber Range?
Roger Willis
2021-07-10T20:09:24-04:00
A prior appointment is required for a facility tour. You can request a tour or in-person appointment here.
Cybrary
Access high quality, exclusive cybersecurity and IT video learning resources you can't find anywhere else, only on Cybrary. Learn anytime, anywhere from subject matter experts, industry professionals and thought-leading companies. Earn certificates and CEU/CPEs and engage with a community of ~2,400,000 professionals around the world.
Develop Security Skills
As a business, implement career development programs
Learn from top experts and companies
Leverage training success stories
Upgrade your career with Cybrary Insider Pro by leveraging their Career Development Programs to help you take the right training, get the right hands-on experience and prove your ability through online assessment tools.
Enjoy a discount to Cybrary Insider Pro with an upgrade code from Tech Data.
RangeForce
Self-Service, On-Demand Cybersecurity Program
RangeForce is an online, gamified training program that gives partners a way to offer advanced threat training to IT professionals. Both partners and IT professionals can experiment with authentic simulations all within a safe, protected environment. Our RangeForce users will gain the ability to recognize and contain threats, identify and fix weaknesses and utilize the latest threat hunting tools to minimize the risk of a successful cyberattack.
Partners and end users can remotely access hands-on programming and obtain the real-world experience needed to quickly detect and respond to the latest cyber threats and system vulnerabilities.
The cloud-based platform enables system integrators, consultants and MSPs to deliver hands-on learning for cybersecurity and IT professionals. Once a module is launched, RangeForce provisions a virtual machine where the user must successfully accomplish a security task related to what they have learned. In order to proceed to the next step, the user must provide the right answer to the security challenge.
RangeForce provides 150 modules covering a wide range of topics including: security operations, web app security, DevSecOps, cloud, ICS/SCADA.
Realistic Network Simulations – RangeForce's simulation environment delivers advanced cyberattacks against enterprise networks that reflect real-world environments.
Virtual Teaching Assistant – Get timely support and advice when you need it from our Virtual Teaching Assistant to master complex subject matters.
Attack Bot – The RangeForce Attack Bot, our virtual red-team, will surprise you with stealthy targeted attacks right out of the headlines.
Comprehensive Reporting Dashboard – RangeForce allows partners to track their team's strengths and weaknesses through a single point of visibility. The quantitative analysis combined with targeted training will enable your team to become experts faster.
Game Engine – A gaming engine that transforms training lessons into engaging and dynamic learning experiences, with just the right amount of competition and incentives to keep things interesting.
Platform-as-a-Service – The RangeForce platform is the most advanced cloud-based cyber skill training and cyber range platform. Always accessible, you don't need to buy or manage hardware or software.
Introduction to the RangeForce Training Platform
Reverse Engineering II
In this module, you are going to learn how to recover a password from a program by reverse engineering it with Ghidra. Ghidra is a software reverse engineering framework created by the National Security Agency (NSA) of the USA. It includes a variety of tools that helps users analyze compiled code on a variety of platforms including Windows, macOS and Linux. Its capabilities include disassembly, assembly, de-compilation and many others.
Splunk Basics
Splunk is a tool that captures, indexes and correlates real-time data which can then be used to generate graphs, reports, alerts, dashboards and visualizations. In this module, you will learn how to use a Splunk instance which is fed by web transaction, database activity and system security logs. You will also get familiar with this data as well as the search capabilities that Splunk has to offer.
Yara Rule Generation
Malware detection is often done through the identification of certain features of known malicious files. YARA is a tool that identifies malware by creating descriptions that look for certain characteristics. In this module, you will learn how to use yarGen to create new custom Yara rules to check for malware which shares features with previous samples of malware you have received.